Installation & Colour
Installation
Our professional installers are trained in fitting techniques and safety procedures that ensure a quality finished result.
Installing on a corrugated roof uses special clips to hold the heavy duty mesh to your roof. Post-forming techniques ensure a snug fit to complex roof profiles. The outer edge is finished by a self-tapped Colourbond trim that matches your guttering colour.
A tiled roof installation is much the same as corrugated following the positive slope of the roof. A difference being where the mesh is placed over the first tile and under the second tile, assuring that all debris will flow off the roof with ease.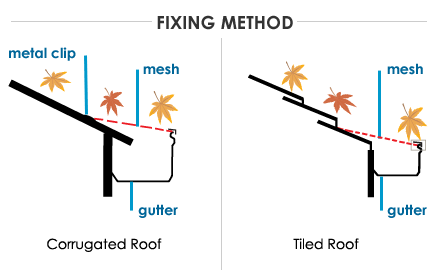 Colour
With the wide selection of colour choices that the Leafscreener product comes in, matching your existing roof colour is easy.